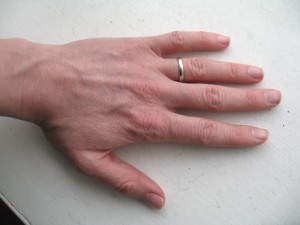 Lack of moisture is the main reason for this. When winter season changes, the humidity of the outside air tumbles when things get dry inside because of the heat inside. Compounding this problem is the frequent washing of our hands we do to avoid catching a cold or flu. This eliminates the natural oils from the skin resulting in your hands dehydrate, leaving them to crack, peel and bleed.
Withstand harsh winter conditions and how your hands will tolerate depends on the strength of your skin barrier. The barrier of the skin is a mixture of proteins, lipids and oils that protect your skin. Individuals with low barriers are more susceptible to the symptoms of sensitive skin, including itching, inflammation and eczema. , Dry, chapped hands in winter are more likely to occur.
The first step to treat dry, scaly dry hands is to replace the missing moisture that the skin is absent. Our first thought is to drink more water, but unfortunately that is not the answer. The application of a moisturizer to the skin prevents water evaporation and gives the skin a healthy appearance dew. Use a moisturizer before your hands show signs of dryness is the best prevention of future problems.
In many cases moisturizer is not applied in a timely manner. Dealing with cracked, dry skin on your fingers can be uncomfortable and can interfere with your hands, especially if the bleeding cracks. Not only healing but also important skin infections that may occur.
I recommend you follow these tips to cure, dry and cracked skin on your hands and fingers.
Treating deep cracks – if they are deep enough to bleed than treating them like any open wound. Wash thoroughly with hot soapy water and dry gently. Apply dressings with antibacterial ointment to help protect and prevent cracks from being infected.
Use a moisturizer – use an ointment or the thick fat cream to maintain and increase the natural internal moisture of the skin. This will help dry areas of the skin and heal the cracks. Read product labels that some advertising for use on extra dry skin, but can not heal cracks or protect hands against damage. Others may contain ingredients such as alcohol or chemicals that can make things worse. Find products that contain humectants and emollients that moisturize and protect the skin clean. I suggest the following:
Coconut oil and shea butter – these are both excellent for protecting the skin.
Lanolin – which is a first class product for the healing of cracks.
Jojoba oil – it reflects the natural oils of the skin. You can not go wrong with the products that list their ingredients.
Vaseline – protects the skin by forming a seal that will not allow moisture to escape.
Hand washing – but extremely important, understanding of technology and the things properly to avoid will help alleviate dry, cracked hands. First, avoid excessive hand washing. The water and harsh soaps with harsh chemicals tend to strip the skin of its natural oils leading to dry and crack. Search mild soaps or those containing lotion. Second, the water temperature is very important. Using warm water cleans natural oils and dry out the skin. The warm water is recommended. Third, gently pat dry your hands with a towel. Refrain from dry them with a towel roughly. Last but not least, apply cream immediately after washing hands. Your skin loses moisture as water evaporates your skin. Applying a cream or lotion helps to retain moisture.
Protection Cotton gloves – to help protect even further, wear light weight cotton gloves. Apply the cream before turning to help protect your dry, cracked skin from further irritation. Wearing these at night after applying moisturizer helps to keep the ointment and decreases the risk of a disorder during sleep.
Humidity – hot air tends to dry hands. Use of a room or the whole house humidifier puts water in the air and reduces the risk of dry and cracked skin.
Sunscreen – if you plan to be outdoors for long periods of time apply a good sunscreen. The hands are more likely to be exposed to harmful UV rays than other body parts.
These tips can help when followed with dry, cracked hands and fingers. If your symptoms persist or become severe contact your doctor or dermatologist. They can prescribe steroids to help heal the skin or discover a medical condition underlying such as eczema, psoriasis or a fungal infection.